Recently, ceramic pots are familiar with customers because their preeminent features are making an impressive mark in customers' minds. They become the most popular choice of people to decorate their living and working spaces thanks to the simplicity and sophistication that many products on the market now don't have.
This product line is always the first choice of customers, but in recent years, people usually choose pots with popular designs and sizes and they do not care much for the large-sized pots . So why do people not use the big size for decorating spaces? The simplest reason is that they do not know how or where to put them in their living spaces as well as they do not have the basic knowledge of how to use these pots effectively; thus, they are always confused when choosing large glazed ceramic planters. As everyone knows, glazed ceramic pots are the product line which our company directly produce and distribute in domestic and foreign market, and they are having a strong position in the furniture market due to their qualities. When coming to our company, you will have plenty of choices with various fashionable and eye-catching styles and especially, our products will meet all the requirements of customers, even with the most demanding customers.
Buying large glazed ceramic planters from Hoang Pottery
Not only do we provide small and beautiful pots, but also we focus on the pots with large and super large-sized pots because we realized the advantages and strengths of these products. Therefore, if you know how to use them in your spaces, they will bring unexpected effects to your spaces and that will make you feel satisfied. The large glazed ceramic planters are designed with various styles and are suitable for many plants and their shapes. Besides, we focus directly to the qualities of products in order to make pots with medium and large sizes be the strongest platform for the growth of plants . Furthermore, with these pots, you can create an eye-catching garden if you have a wide outdoor spaces or you can put them in the lobby, hallway… where there are large area to avoid affecting the daily activities of your family.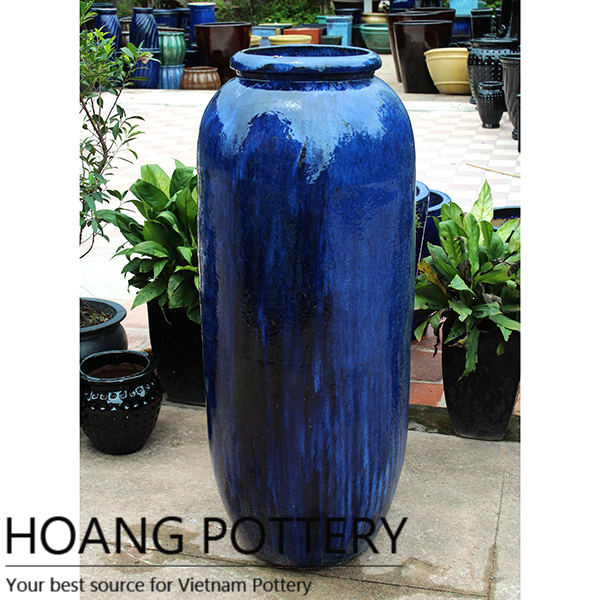 large glazed ceramic planter
Products with good quality, eye-catching style and reasonable price, that what you will own when coming to our company .Medium and large ceramic planters can make you feel amazed with competitive prices that many companies on the market are hard to compete. Thus, you should not hesitate to visit our company to have beautiful pots with useful advices and suggestions of our consultants; moreover, we will rely on your hobby as well as your house's fengshui to help you choose appropriate pots for any spaces and these pots also bring nature into your living spaces so you can enjoy the peaceful sound of nature and relax your mind.
Only with the simple steps, you will have a paradise in your house, so let's come to our company to have great experiences. Large glazed ceramic planters will bring new wind to your spaces; besides, taking care for flower pots is also a fun and healthy hobby . Instead of living in a stuffy space, you should change your place into a fresh space by using small flower pots. Moreover, they also help to condition the air and help you to be immersed in nature . So do not hesitate to choose Terrazzo and Glazed Ceramic to have great experiences that many products on the market are hard to compete with.
Instead of living in a stuffy space, you should change it into a fresh space by using small flower pots. Moreover, they also help to condition the air of your house and help you to be immersed in nature . So do not hesitate to choose our products to bring great experiences to yourself as well as your spaces. Through all the information above, we are sure that you will have a suitable choice to create an ideal and friendly spaces for yourself. And if our products meet all of your requirements , do not hesitate to contact us to own these products with good quality, high application as well as environmental friendliness. When coming to Hoang pottery, you will have great experiences not only with the quality of products but also with the ability to bring nature into a house – an important factor that is the top priority of our company to create dynamic and modern spaces. Therefore, instead of living in a small and narrow space, our products will turn your spaces into a new comfortable space with fresh air and flower pots.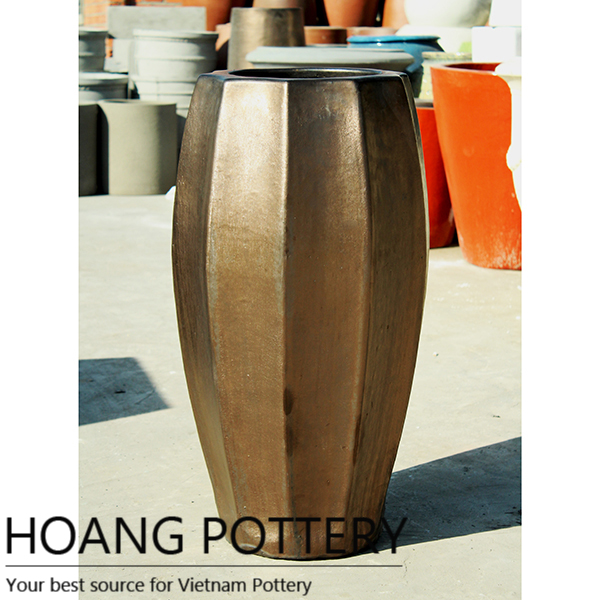 vietnam pottery, vietnamese glazed pots and planters
Hoang pottery always put the quality and prestige on top so you could feel secure when using our products. On the other hand, with the criteria "Serving customer is our honor", when you have questions and expect to be answered, we are willing to give you advices to help you to solve these issues. In addition, if you are interested in our products, let's contact us and you will quickly see the presence of our products in your space. You can have peace in your mind that your product will be shipped to your address safely, with no scratches or damages because we pay careful attention to packing products for customers. Another important factor is freight, we always think of the customers' benefits so you should have peace in your mind that the freight is not only safe but also at reasonable price. Moreover, we also have the website for our products that can help customers in different areas or different countries can see the various models of products as well as their specific information.
According to these suggestions, as well as the detailed information on each product, we hope that you will have a satisfied choice for your spaces as well as your house.
Read more:
A PRESTIOUS CERAMIC PLANTER SUPPLIER!
The difference comes from the white ceramic planters!
MAKING AN IMPRESSIVE POINT FOR YOUR SPACES BY SMALL CERAMIC PLANTERS