Nowadays, the living conditions are more and more improving, so the demand for work and relaxation of people has raised to a new level: a comfortable living space, a modern recreation areas for your family as well as a friendly atmosphere for your work… It is difficult to find a place that can satisfy all of these demands. Therefore, instead of having a monotonous environment, you should decorate your spaces by yourself, turn them into a comfortable and convenient space. There are many ways to change your living space but the most simple and effective way to give your space an airy, clean and friendly space is bringing nature into your house.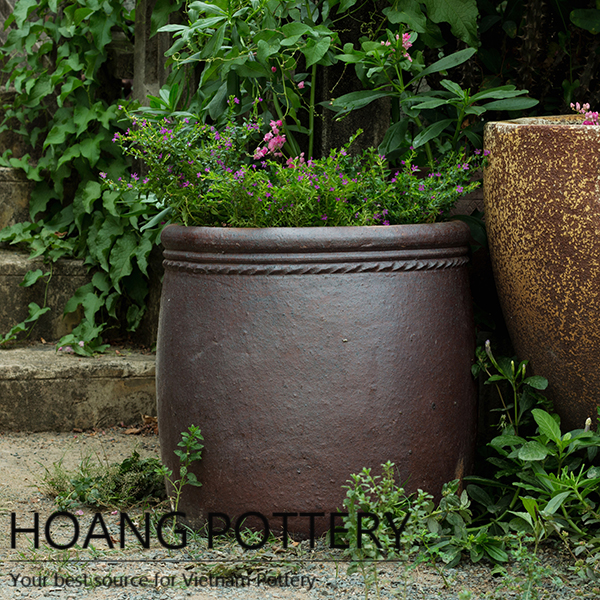 Dark clay Pots and Planters, Black Clay Pots and Planter
A beautiful flower pot is an extremely effective way to decorate your spaces. But you should choose an appropriate pot for each type of plants. Appropriate pots will create a new environment for plants to grow strongly. Besides, these pots will make your spaces become more attractive. Therefore, if you want to own a beautiful flower pot: first, you must pay attention to choosing pots, from designs, colors to the sizes of the pots. There are two types of pots: one type for indoor spaces and another type for outdoor spaces.
For outdoor spaces, with drought-tolerant plants which can grow even in extreme climate, high quality pots: glazed ceramic pots, cement pots, terracotta pots are excellent choices to ensure that the plants can grow beautifully but also can be durable for a long time. These types of pots are suitable for decorating in gardens, balconies, corridors… For flowerpots in your garden, balconies or terraces… you usually do not move the pots around but for indoor spaces, you usually have to move them around to clean your spaces; so these types of pot are quite heavy.
In contrast, for indoor spaces, you should select pots with medium or small size to easily put them in any spaces of the house. A medium or small pot doesn't occupy a large space in your house, so there will be places for other furniture . Another good choice is selecting pots that can be hang on the wall to decorate any monotonous walls in the room. With this kind of pots, our company also have many designs and various types of pots for you to choose . Normally, people use semicircular, rectangle or square pots to decorate the walls. Small pot will make your place become more eye-catching. You can use many types of small pots with traditional styles or modern styles to create favorable flower pots for yourself .They are not only suitable for tables, but also for decorating shelves, bookcases, cabinets or small corners of the house. Small pots have much more designs than large pots have. The typical types of pots for indoor decoration are cement pots, glazed or plastic pots. You should also care for the fact that you usually have to water plants and that can affect the hygiene of rooms so you should choose pots with capability of waterproof , dirt repellent or algae buildup…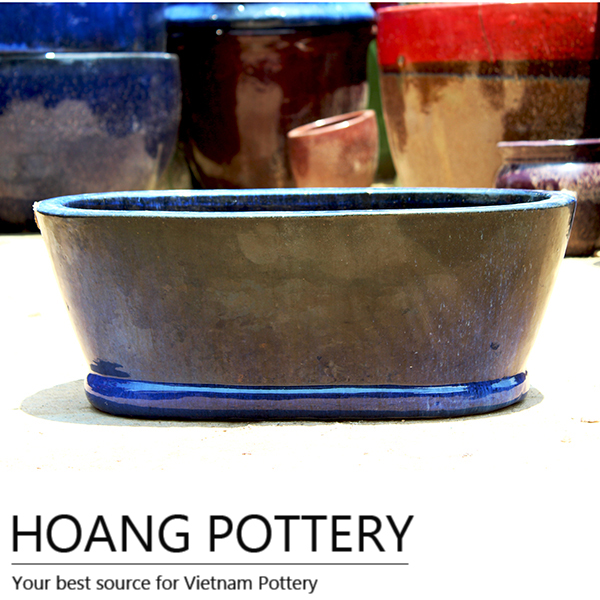 vietnam pottery, vietnamese glazed pots and planters
In conclusion, you must depend on the spaces and the living conditions to make a right decision for pots.
Moreover, in terms of designs, as we can see, the circular and cylinder pots are two types of pot that are very popular . The reason is that they have modern and eye-catching patterns and they are suitable for any plants, so it is very easy to use these pots to decorate in the houses. Besides these pots are made from cement and coated with a glaze, they have various sizes, colors and patterns .Depending on your preferences as well as your spaces, the presence of them will give you a special and unique indoor-outdoor spaces due to their preeminent features that other products are hard to compete with.
So for a happy and comfortable life, you should not hesitate to buy our company's products for the amazing experiences about the quality . Our products will turn your spaces into a new space with fresh air and flower pots which helps you to be immersed in nature – an outstanding feature of these products for people who live in the city. The appearances of these pots in your spaces will not only help to condition the air but also help you to feel comfortable and relax.
Through reading all the information above, you will have a suitable choice to create an ideal and friendly space for yourself. And if our products make you satisfy, do not hesitate to contact us to own these products .With our company's services, you will have great experiences, not only with the quality but also with the ability to bring nature into your house – an important factor which is the top priority of our company to create a modern space. We always put the quality and prestige first so our client could feel secure when using our Vietnam pottery's products. On the other hand, with the criteria "Serving customer is our honor, so when you have questions and want to find the answers, we are willing to give you advices to help you to solve these issues. In addition, if you are interested in our products, let's contact us and you will quickly see the presence of our products in your spaces. The product will be shipped safely to your address , and there will be no scratches or damages. Another one of important factors is freight, we always think of the customers' benefits so you should have peace in your mind that the freight is not only safe but also has a reasonable price. Moreover, we also have our own website for the products which can help people in different areas or different countries to see our products' samples as well as their specific information.
According to these suggestions, as well as the detailed information on each product, we hope that you will have a satisfactory choice of pots for every spaces in your house.
DETERMINING AND DECORATING PORCHES WITH APPROPRIATE POTS
Luxury and modernity with black glazed ceramic pots – The highlight for green spaces