The life of outdoor furniture depends on how it is protected and maintained. Let's learn how to clean and care for your loved outdoor furniture to keep it looking as good as like new for years to come. Before starting, you should notice that for wicker outdoor furniture usually contains many kinds of materials like aluminum, steel, fabric, wicker ... Each material needs different ways to maintain.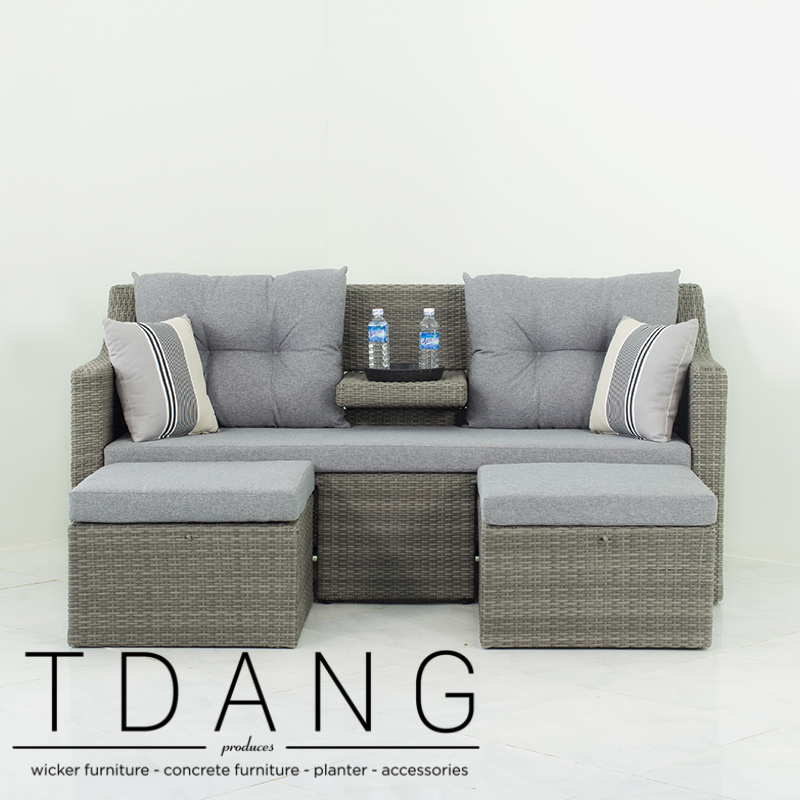 rattan garden furniture, wicker furniture, wicker baskets, garden sofas, Garden Furniture, Swinging Sofas , Reclaimed garden furniture, Garden tables, Garden benches, Railway sleeper furniture, rattan, furniture, conservatory furniture, patio furniture, Rattan Garden Furniture, Concrete Garden Furniture, Garden Dining Sets, Garden Benches
Caring for fabric.
Regular periodic care of your furniture to keep its functionality and appearance is better than occasional, heavy duty maintenance. Clean pills as soon as possible by mild liquid soap with warm water before it becomes very hard to clear. If the surface still remains slightly stained, add some chlorine bleach to clean, with soft brush. Avoid the use of any abrasive cleaners and power washers. Remember to rinse completely to remove any of soap residues.
If you have the problem with midlew, use a ½ cup of chlorine bleach and water, spray entire surface, wait for 20 minutes and scrub with sponge. Use clean water to rinse and then dry entirely. Keep away suntan and sun block product containing "PABA" from your fabric because they can fade the color pernamently.
Besides that, store and cover the fabric furniture when not in use to extend the using time. Remember to wrap by breathable furniture cover to avoid midlew if there is any moisture present.
Caring for frame.
(*) Aluminum frame:

WICKER FURNITURE, CONCRETE FURNITURE, PLANTER, ACCESSORIES
Aluminum are quite easy to maintain. For cleaning, we can use clear water and mild soap to remove dirt, dust, chemicals,...
Aluminum is non-rusting but it gets aluminum oxidation over time. This doesn't destroy the strength of aluminum but changes the color of it; so if you want to keep the original color after some time using, make sure you use the liquid car wax at least once a year for adding the protection. The car wax can prevent aluminum oxidation.
(*) Steel frame: Remove the dust, dirt, pollens, chemicals,... by clear water or with mild soap weekly to keep the surface clean.
For the long run, at least once a year, cover the surface by the liquid car wax to protect the finish of product. The wax will make it water-resistant. You also make sure that any scratches expose the bare metal are treated to limit rust. If corrosion has occured, clean with rust dissolve liquid, wait for some minutes, then wipe out and touch up with the metal paint of the same color.
Although most manufacturers usually coat a powder finish outside to prevent corrosion, but water can rust it inside out. Hence, you shouldn't lay your furniture at humid or wet places.
Caring for wicker.
Regular dust can be remove easily by a soft cloth, feather duster. For trapped dust, use a soft bristle brush to remove dirst from crevises. For heavier dust and stains, wipe with a lightly moistened cloth with soapy warm water, wipe again with clear water.
Place your wicker furniture at airy area to keep it more durable. Too low humidity will make your wicker dry and easier to get brittle, but too high humidity will cause midlew. To reject midlew, scrub with a mixture of 75% water and 25% white vinegar, then wipe again with clear water.
Caring for table top.
Most of table top surfaces should be cleaned regularly by sponge or soft cloth with mild soap and water. Rinse throughly after that with clear water. For embedded dirt, clean with mild cleaner, then rinse throughly with clear water after that.