If you are a startup company without any experience and get messed in tons of information on the internet to search for yourself a trustful overseas supplier, this article may will help you configure what you should do.
First of all, why I mentioned overseas suppliers before but not domestic suppliers. The reason is that Asian suppliers, especially Vietnam can provided high-end quality products as well as the most competitive price. This is a big advantage for startup company; the cheaper input is, the more profit you have. And when you are running a company, you have to pay many kinds of fees per month for employing your staff, office, marketing, warehouse... with a limitation of capital. Thus, at the begining, having a good supplying source is very important.
Why should I contact with Vietnamese suppliers? Because Vietnam is known as one of leading countries in Asia about exporting. They have plentiful, cheap and skillful habor to create high quality products but the price still be controlled very well. The government also has many supporting policies for foreigners importing from Vietnam.
How can I find out suppliers in Vietnam?
Google searching
Google is the basic searching way to get the first results. My suggestion for the first searching is exploring at least 5 first pages because many companies' websites are usually not updated and information is not optimized by search engine. You may regret if you just focus on top Google searches and leave reliable suppliers behind. The tip here is using variety of keywords to optimize the searching results. For example, these keywords like wholesale, wholesaler and distributor be used interchangeably.
Trading forums are great channels for look up information and reference. However, you should not completely trust on the information, even from reliable forums because many marketers find that forums are lucrative accommodation for their marketing strategies. Some contents you read may not true.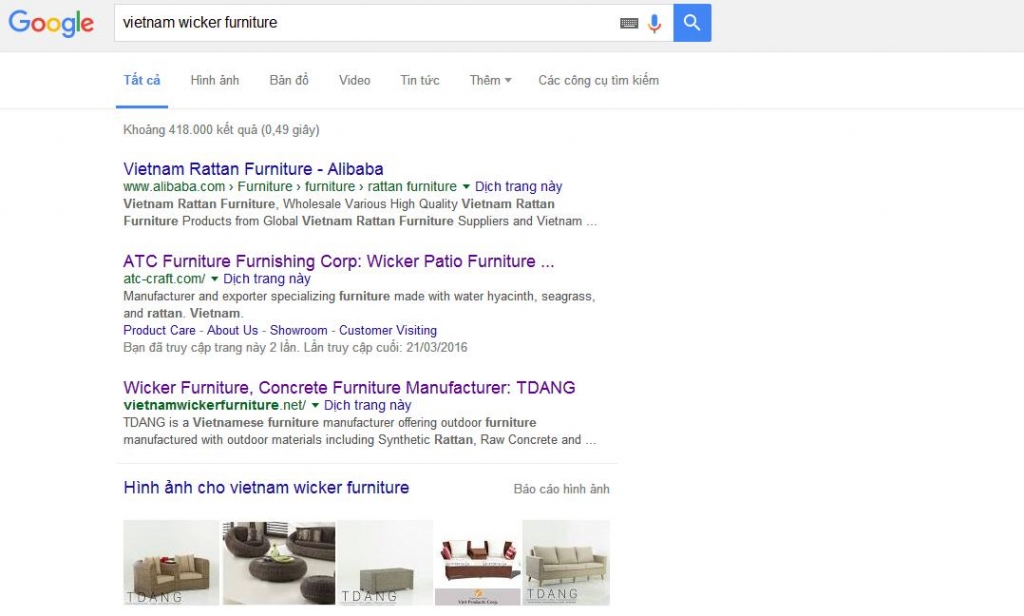 B2B Websites
B2B or business to business is trading between different businesses. B2B website is bridge to connect globals buyers and global suppliers. This is a useful channel for buyers because you can find out most of valid information about suppliers and products in target places. Some sources that are trustworthy like Alibaba.com, Globalsources.com, Indiamart.com, ... are highly recommended to global buyers for searching.
Visiting tradeshows
A great way to meet suppliers and compare their products at the same time.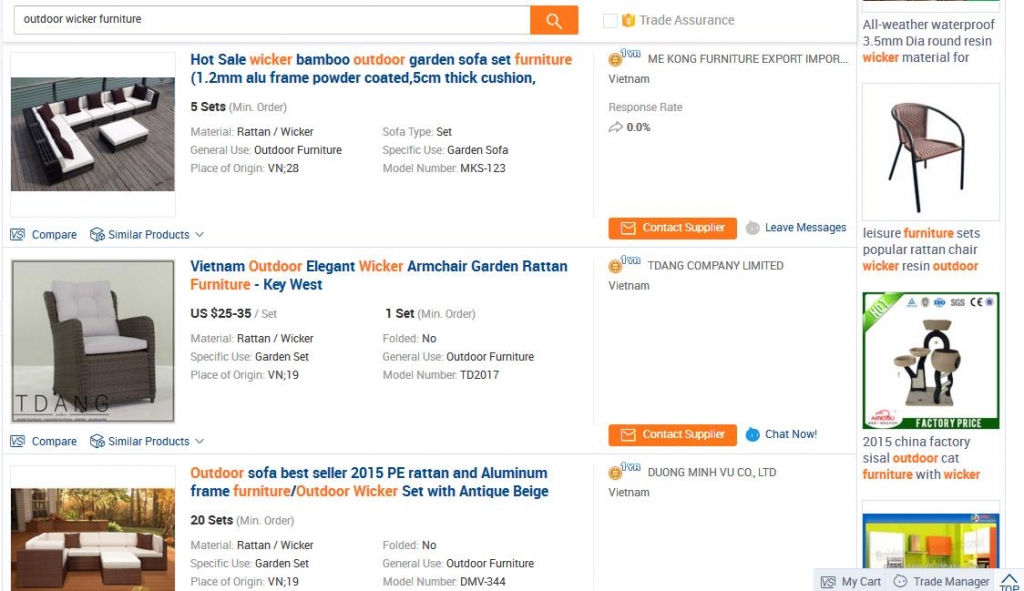 Tips: While you are searching, don't forget to create a list of suppliers. It should contains their information like company name, contact information, product category and notes. Then, you should narrow down once the list of suppliers to manage the amount you will contact; that can help you save a lot of time.
Before you contact with suppliers
Please note that suppliers are usually received many quotation requests everyday, even from their competitors or spam emails. That's why some suppliers don't feel excited to reply your email if they think it from an unreal buyer. So there is some things you need to be aware in order not to be ignored when contacting suppliers.
(*) Very long email: For the first time, stay clear and concise. You should not tell too much about things unrelated such as your business background, your business plan. Just focus on what you want to know and on what the suppliers will care about, but as specific as possible. You could number the questions you want to know.
(*)Asking too much about the suppliers: as I said above, the suppliers are usually afraid of fake customers asking too much about them at the first contacting. Suppliers would rather answer the request the price of some products than an email requiring a full price list of their products because they think you spent time to learn and ask for your interested products. Your request should be fit between suppliers and you.
(*)Asking too general: The supplier may not response to your email if they feel you are less excited about inquiry with superficial questions. If you are not sure, you can make a quick call for them. A phone call is 10 times better than an email but keep in mind before making a call, you should check their local time to ensure that they are still in office hours
Tips: In your email, you should use "we and our" instead of "I and my". That can make your company seem larger than it is to the suppliers. At the end of email, you should leave the contact information of you for suppliers.
Contacting the Supplier
When contacting with suppliers, keep in mind that these information should be mentioned in your email.
Minimum order quantity (MOQ): With wholesale suppliers, they always have the mininum order quantity for an order. Before setting a long relationship with strange suppliers for the huge orders later and you can't come to visit the suppliers, making a first order with the quantity equal with their MOQ is recommended. Besides that, when you got exactly the mininum number, you could be more active for your business plan.
Production pricing: This is one of the biggest questions you might concern firstly because your wholesale cost is not the cost you pay for each product. Your wholesale cost contains total fees such as import tax, shipping fee, insurance expense, etc. Rememer to do a careful calculation to ensure that you still get profits in the end. The production pricing could be changed, it depends on the quantity you will order; asking for discount pricing when you want to order a large quantity.
Sample pricing: Before making a full order you could ask the suppliers for sample products. You have to know what you will sell before selling it to your customers. Some suppliers will send you examples for free, you just have to pay the shipping fee; some may not. They can give you samples with the discount price. When you contact them, don't forget to ask for their policy.
Lead time: Information about how long it will take to produce items and ship to you is also very important. You should consider about your current business to choose which suppliers are more suitable. Also, air transport is much faster and less risky than sea transport, but air freight may be 10 times higher than sea freight.
Payment Term: Before place an order, you need to negotiate the payment term with suppliers. Many suppliers want the new businesses to pay for the full order before they start to produce and deliver products. However, there are many cases that the scammer use that trick to steal your money and then escape. To avoid this, Letter of Credit (L/C) and Escrow are commonly used as the safe modes of payment for both providers and buyers, but please keep in your mind that there are no 100% safe online payment methods.
Visiting the suppliers is very necessary
Just because the higher ranking in searching and information provided from their websites or other sources don't really reflect that they are more professional than others in business. Moreover, what you see online is not what you will get. All suppliers would try to make their product images perfectly to attract your attention. A visit to your suppliers is much safer to check their information and capacities before making a large order. A meeting with suppliers will help you have an overview about them and build up the relationship better. Take a look on how their factory organization, production process, the quality of products, the packaging, etc. This is also a good chance to negotiate everything instead of through email or phone.
In order to enter Vietnam, you must have a Visa to Vietnam : read here to know how to apply for a visa to Vietnam